Hey!
Because I have such a rockstar life, it's time for another installment!
Watching
:
Lawrence of Arabia
,
The Bourne Legacy
, and
The Perks of Being a Wallflower
.
Lawrence of Arabia
was over fall break; I had never seen it before and bought the 50th Anniversary special re-release into theaters tickets before finding out it was four hours long. Sorry, mom. Then
The Bourne Legacy
was a few days ago at the $2-theater
(it's a city over and plays movies post-theater, pre-DVD for $2 a ticket)
and it BLEW MY MIND. I was less than stoked to see a Bourne movie without Matt Damon, but man, Jeremy Renner (and his abs) is something to behold. It was my favorite Bourne so far! (Even though I say that after seeing every
Bourne for the first time...) Then I FINALLY saw
The Perks
! It's limited release so I was counting down the days 'till it came to town and I Fandango'd as soon as it did!
Reading
:
Carrie
by Stephen King. If you remember, I have to read a banned book for English. Digging that menstrualful opening scene.
Eating
: Pumpkin pie Poptarts!!
Doing
: Well, yesterday I got out of school early
thuggin'
for the Imagine Dragons mini-show (see below), but other than that, I've been taking it pretty easy these past few days. :)
Listening
: to Imagine Dragons! I actually won tickets to see them at the Direct Auto Insurance Garage (
I saw One Direction there too
) on Friday, and the show was yesterday. They were so nice. So freaking nice you guys.
Buying
: Fall candles. Still. I burnt through my Yankees, and now I have a wonderful Autumn Harvest soy candle from Target.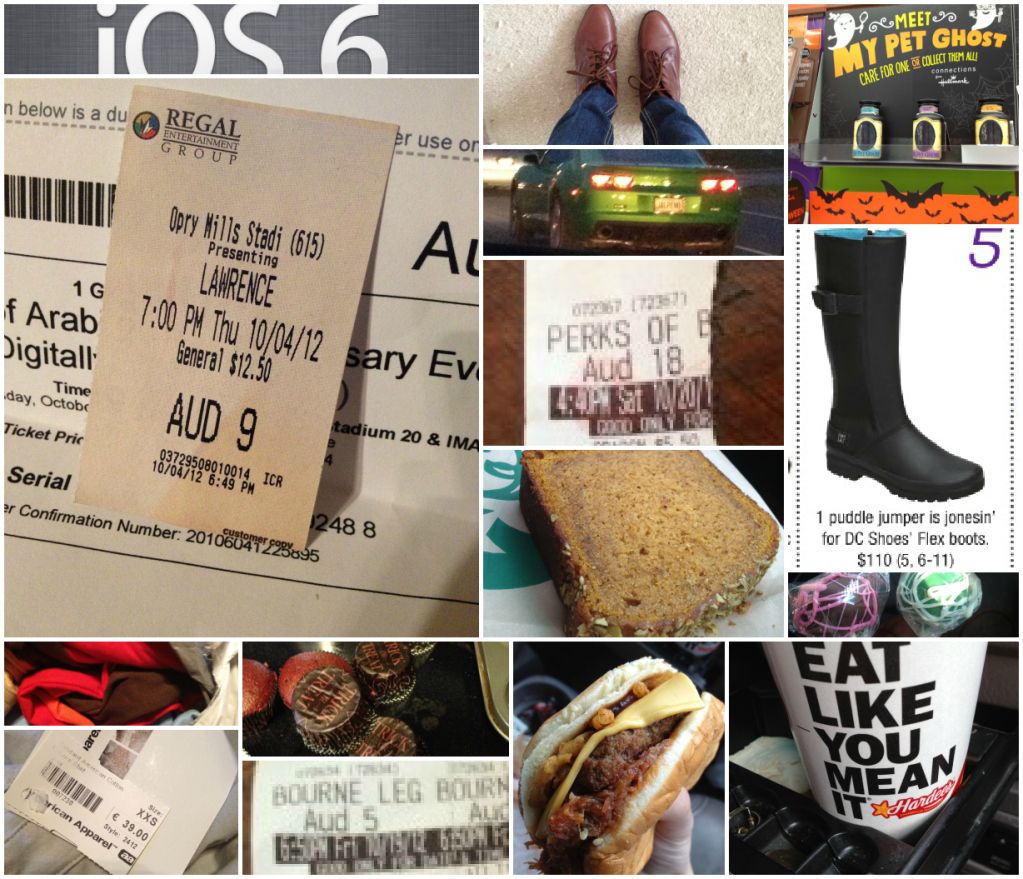 Top to bottom, left to right:
1) Downloaded iOS6! Burning through my battery all day urrday; 2) my LofA ticket 3) & 4) American Apparel had all their polos for 2 FREAKING DOLLARS online the other day, all in my size. PARTY PARTY 5) Granny booties from eBay!! Everyone has cheap-looking, fake-leather booties, so I got real leather ones for the same price! They're Danexx, btw, so if you're in the market for some good-priced good-quality booties, hit up eBay 6) Perks ticket 7) Pumpkin bread from Starbucks! 8) Hardees burger. It had BBQ on it you guys (Fun fact: my mom and I split it; I ate one half she ate the other; there was a massive blonde hair in her half) 9) My Pet Ghost! What a cute idea! 10) I won these boots!! 11) Cake Pops holla @ me 12) Hardees cup you know how I do.
I think I'll have an Imagine Dragons post up soon, so be on the lookout!
L8R G8R
xoxo,
Zoe