Hello!
One of the most notoriously-dreaded things of all time is P.E. in high school. I mean, how many TV shows and movies have you seen that have an embarrassing gym scene? Too many, probably. Personally, I don't think the media can overdo such a humiliating rite of passage. It's basically where the athletes shine and the non-athletes burst into flames. There are two good things about it, though: you get a whole 45-minutes in stretchy pants, and you get time afterward to re-pretty yourself! Holla! Honestly, I focus more after P.E. than during, and here's what I use when doing so. :)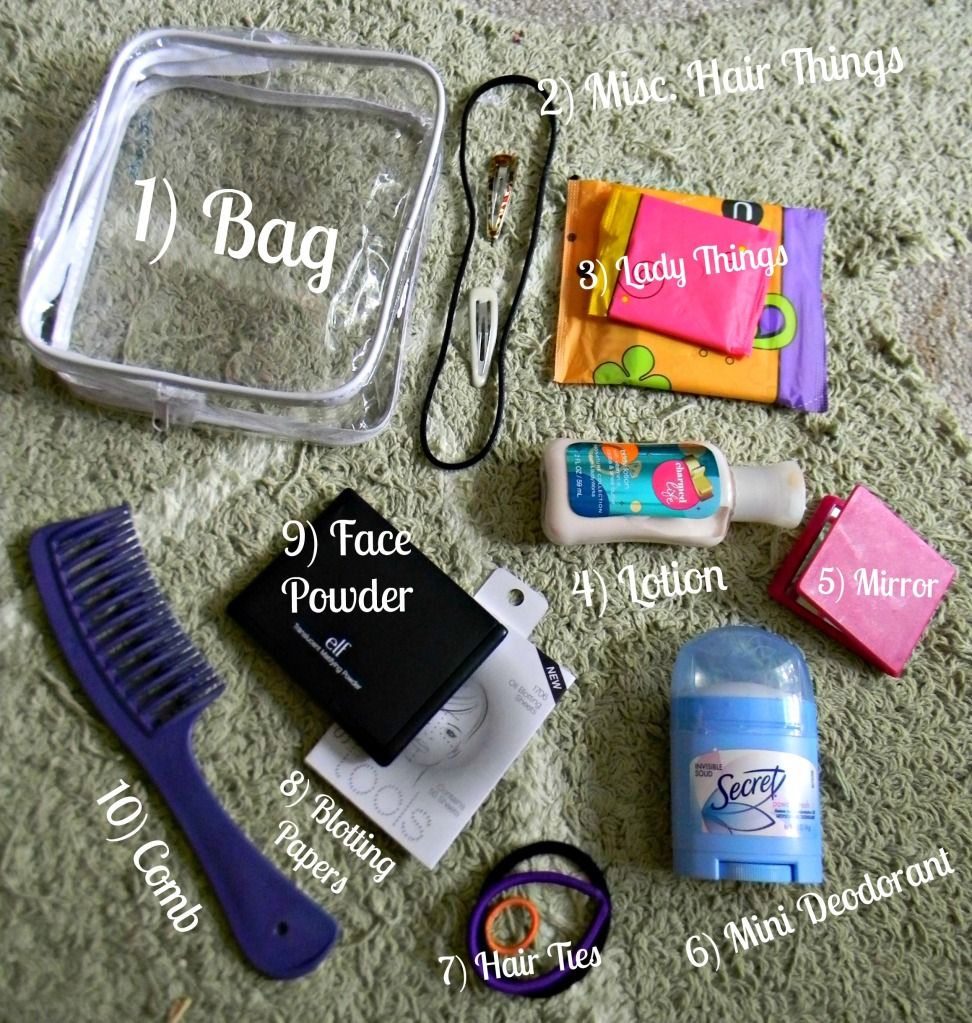 What's in my P.E. Bag
1) The bag. I actually got this at Goodwill; there was like forty thousand so I grabbed it without knowing what I'd do with it yet. You know. Thrift life.
2) Miscellaneous hair things. I've got a sport headband (never used) and barrettes for putting my bangs up/hair emergencies.
3) Lady things.
4) Lotion. I've never used it, but I just think every girl should have lotion in her gym bag.
5) Mirror.
6) Mini Deodorant. I use this everyday; the deo I apply at home always wears off by P.E. And oh my god, if you carry this, pretend you don't. I've already had FOUR DIFFERENT GIRLS use this, two w/o asking. It's disgusting. So the one pictured has been thrown away for a while now.
7) Hair ties. Another used-daily product.
8) Blotting papers. Use them everyday, lifesavers.
9) Face powder. Blotting papers remove the shine, face powder makes sure the shine stays away.
10) Comb.
I mostly used the brush
in my backpack
, but this is for re-doing my part.
I know, I know, it seems like waaay too many things, but they're necessary, I promise. Well, maybe not the lotion. But everything else. Well, mostly.
What do you have in your P.E. bag or after-workout bag?
xoxo,
Zoe