Hello!
I hope any holidays you celebrated this winter, or just this last month of 2012, was super happy and fun! My winter break flew by, yesterday was the last hurrah. The 11
(ridiculously small number...)
days I was out were full of movies, eating,
The Walking Dead
, and sleeping in. Since I know you want to see pictures of those things (who wouldn't, amirite?), here are those things and some others!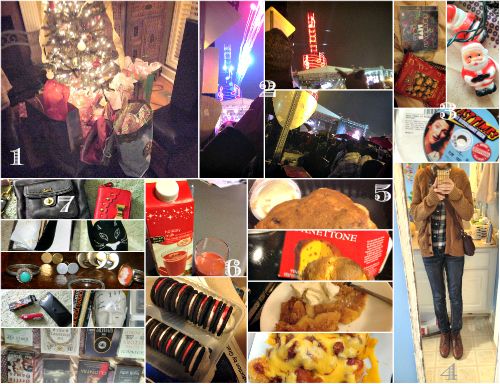 1) Our living room Christmas tree! This is where family presents go.
2) New Year's Eve in Nashville. The Fray played!! It rained and was super chilly but they were fantastic, of course.
3) Coldplay Live and some caramel popcorn dominated one evening, and some vintage Santa lights are too cute not to share. Oh, and watched Fast Times at Ridgemont High, which I'm pretty sure is my last classic high-school 80's movie to watch (at least, I think so.)
4) My favorite cold-weather outfit! Dressed like a grandpa. Dressed to kill.
5) Unhealthy food galore! Carrot cake pancakes, Panettone (disappointing!), apple pie, chili cheese tots (yes, I'm publicly saying I eat them, because this is a place of acceptance.)
6) Red Velvet Holiday Milk (had to try it), and Candy Cane Oreos.
7)
Some gifts, including a Phrenology head and all those books! I tore through
The Diviners
by Libbra Bray in three days; I totally suggest it. Not pictured are some H&M dresses, some Threadless shirts, and
this
(!) ModCloth shirt.
In other news...
Watched all of The Walking Dead on Netflix Instant + marathon on AMC, now it's no wonder it's so popular!
Finally saw Vertigo! Nothing like a good Hitchcock.
I launched a little StoreEnvy store! I'm working out the kinks, so more on it later. :)
How'd you spend your holiday/break/time off? I hope it was glorious and full of food!
xoxo,
Zoe