Howdy!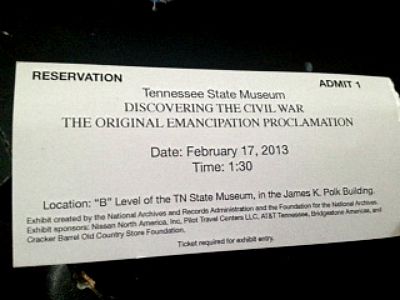 HAAAAAPPY PRESIDENT'S DAY if you're in the United States!
Yesterday, I went to the Tennessee State Museum to see the real-life Emancipation Proclamation. Nashville was one of the three stops of
a Civil War exhibit
featuring the actual Proclamation (and the actual Proclamation was only part of the exhibit for a few days, then was shipped back to the National Archives; also, it was only exposed to 72 hours of light over the course of its time in the exhibit!).
If you're not in the U.S., here's what you need to know: Abraham Lincoln, American's 16th President, signed this document in the time of the Civil War, and it broke the backbone of slavery.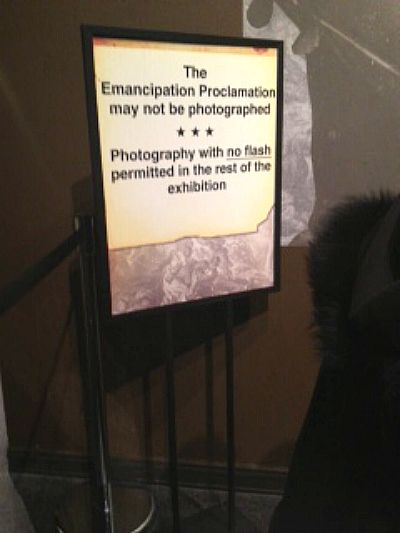 As a true history nut (I know everyone says they're a "nut" about something, but for real, history just gets me going), I was beyond thrilled to see it. I'd been looking forward to it since early January when I reserved my spot (dollar well spent!), so Sunday the 17th couldn't come quickly enough!
I saw the original Emancipation Proclamation and Thirteenth Amendment with Abraham Lincoln's
actual signature
. I got chills. I wanted to throw up; I couldn't handle it.
I couldn't take pictures of the actual E.P., but I could of the Thirteenth Amendment. And I did. BUT NOT WITH HIS SIGNATURE. I didn't get one close enough! I AM SO ANGRY! It was such a gorgeous signature. I AM SO UPSET.
Anyway, since this was such a monumental moment for me, I had to share. Seeing something of historical value in real life just makes me want to pee my pants.
xoxo,
Zoe