Hey!

Youse guys! It's faaaaaallllllllll!!! Yeah man, that Autumn Equinox business went
down
a week or so ago, and I've been craycray about the season's changing ever since August, so you can only imagine how many scented candles I've bought and pumpkin-flavored things I've failed at baking.
Anyway, it's been a while since my last SL, so this one covers everything from then to yesterday.
P.S. Sorry the quality is a bit disgusting grainy, I was trying a new software and it failed to deliver that high standard you just expect from me (hardeeharhar).
.S.S. I'm officially obsessed with making collages ok.
Watching:
DEXTER
COMES ON TONIGHT!! I urge you strongly to watch it. What else? Well, pretty much every fall show premiered last week/will premiere soon, so the ones I set my DVR are
Mike & Molly, 2 Broke Girls, New Girl, The Mindy Project, Modern Family, The Middle, Elementary, The Big Bang Theory, Copper, It's Always Sunny in Philadelphia
, and
Vampire Diaries
. You can bet that I forgot many of them.
Yeah I watch a lot of TV ok leave me alone
Reading:
a banned book for English. I haven't picked one out yet, but it'll be banned, and it'll be a book. You can count on it.
Eating:
Everything pumpkin-flavored. The end.
Doing:
Going to Hastings today to rent all the
Freaks & Geeks
and a Peter O'Toole movie, then seeing
Hotel Translyvania
. Tomorrow is ortho then the zoo to see a baby giraffe. Thug life.
Listening:
to a lot of Ingrid Michaelson, for whatever reason. And Mumford & Sons
of course
!! Honestly though, I'm kind of let down with their new album. Obviously it's gorgeous and perfect but it's just so hopeful. I miss the depressed, angry guys! Oh well. I guess you can't be unhappy forever. :)
Buying:
Flannel from Target! It's all so nice and fall-y and cute! Also, Ulta recently had 40% off my
favorite brands
so I stocked up.
Oh, And Also
: I won't be doing a "September in Review" kind of deal, but my favorite posts this month are
What's in my Jansport Pocket
and
My Everyday Make-up Routine & Make-up Tips
.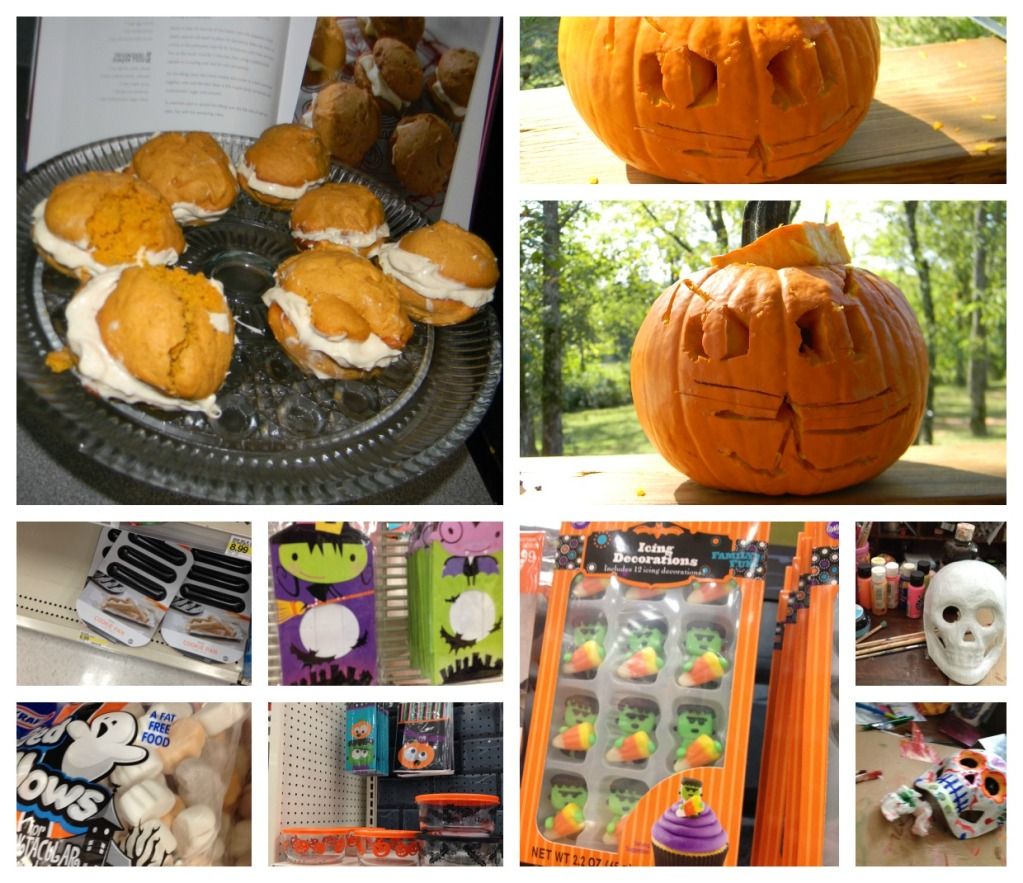 Fall-y Stuff
From left to right: 1) Pumpkin whoopie pies; 2) kitty-carved pumpkin (Pumpkitty? Catkin? Name undecided.); 3) a bunch of cool Halloween stuff at Tarjaaaaay; 4) tried/failed painting sugar-skull style (points for alliteration though)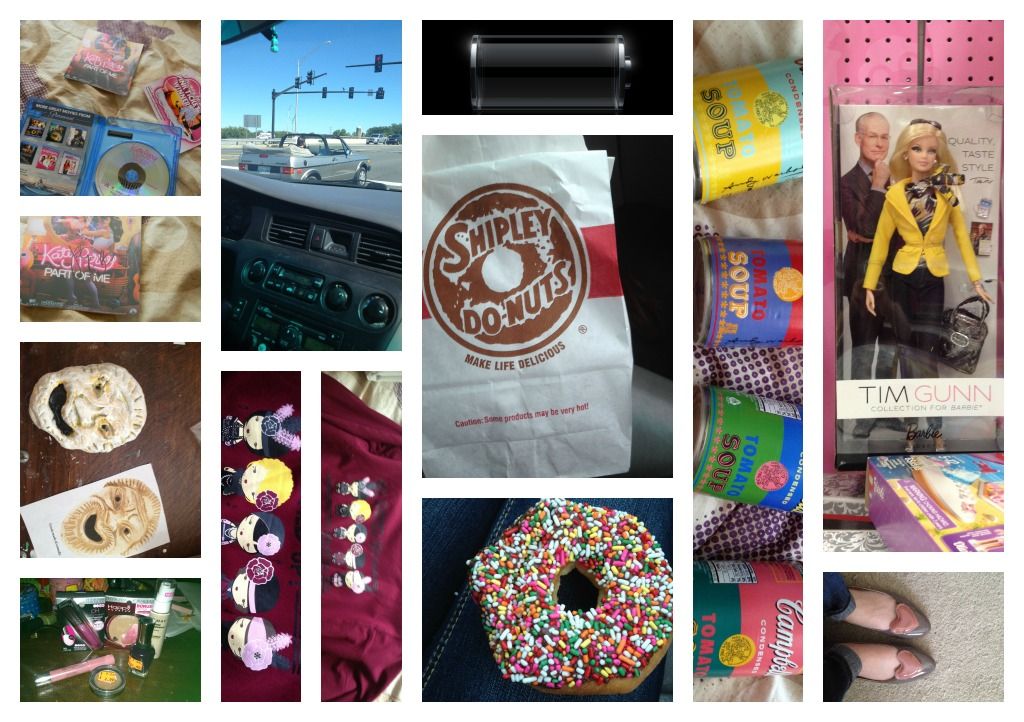 Other Stuff
From top to bottom, left to right
:
1)
Katy Perry movie! (if you preordered on Walmart you got an autograph too. so you
already know
that's what I did);
2)
my Latin class project-- basically we do whatever Greek/Roman-related we want, so I attempted sculpting the Greek Mask of Comedy out of Model Magic. My sculpting skills aren't what they've never been;
3)
Ulta stuff;
4)
my dream car!! a Volkswagon Cabriolet! except they're all manual and that's just like impossible for me so all I can do is admire from afar;
5)
LOOK AT THIS HARAJUKU MINI SWEATER OMG OMG 1920'S GIRLS YOU GUYS;
7)
Shipley's Donuts is an apparently-famous little joint we found one day while thrifting far away, yummmmm!;
8)
Andy Warhol soup cans, you know how I do;
9)
Tim Gunn designs for Barbies you guys.;
10)
good shoes make for good times (quote me ok)
What've you been up to?
xoxo,
Zoe